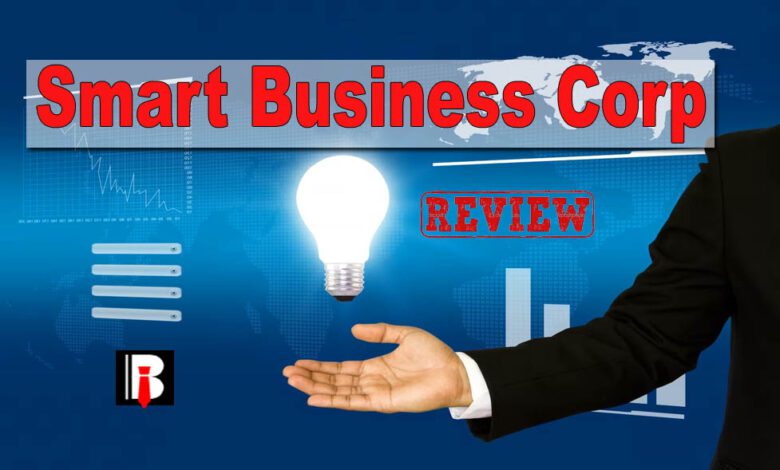 The Smart Business Corp is an organization that allows the investors to invest and get profit from their money. Most people are still confused as to whether it is reliable or not. According to the organization, they can change lives by teaching about money, and customer can reach their goals with more confidence, trust, and understanding. However, we came to know that they still have not shown their regulation evidence on their official website. Dealing with such untrustworthy brokers can be risky and may lead to losing your money. In this complete review, we will go through the company in-depth and provides detail about whether it's a scam or not. 
What is a Smart Business Corp?
Smart Business Corp has long provided investment services to a variety of foreign clients, according to their website. The company claims it helps its partners grow by providing seminars, training, and other learning resources and investment tools.
They claim that the company has moved to Vanuatu and may be reached via phone, email, or live chat on its website. After discovering that the broker is unregulated, red flags should be raised due to the high risk of financial loss associated with dealing with shady brokers. A detailed analysis reveals more than meets the eye. 
Who is the Founder of Smart Business Corp?
Smart Business Corp's website doesn't disclose its founders or administrator. Ernesto Reséndiz is the company's founder and CEO, based on further investigations.
Ernesto lives and works in Mexico, according to his LinkedIn. The company's Mexican domain name is coincidental. My research revealed that Ernesto created Smart Business in 2010 under the pretense of "debt eradication." Members would aid each other financially and receive advice on starting and running profitable businesses. The organization recruited 11,000 affiliates and expanded overseas in a year. It was OK before it broke.
Resendiz formed IBF International to replace his bankrupt company. Promising $100 monthly returns, IBF International got $410 from clients. The new company expanded beyond Mexico into South America before its mid-2014 downfall. Because of this, Ecuadorian authorities arrested Ernesto Resendiz on a promotional tour.
Is Smart Business Corp a Trustworthy Company?
Smart Business Corp refuses to submit regulatory compliance papers, raising concerns that it is a fake. The inventor has a history of custody for nonpayment to members, and there is no financial evidence, which adds to the problem. Be cautious while engaging in intricate commercial projects because you could lose your money.
Pointing Towards Smart Business Corp as a Scam:
Forex trading, binary options schemes, cryptocurrency fraud, and other financial scams are tough to identify. However, many pieces of evidence suggest that Smart Business Corp is an unscrupulous broker.
Examine the red flags:
Their website raises numerous red flags, discouraging prudent investors from investing in Smart Business Corp. Here are some compelling reasons why it is a risky broker:
Fund Security, Regulation:
Operating unregulated is the definition of deception, making this company a dangerous investment. You put your money at risk by investing with an unregulated broker. Our readers should work with brokers who are licensed by the FCA, ASIC, and FMA, among other organizations. Unlike Smart Business Corp., these authorized brokers adhere to tight criteria and anti-fraud measures.
Withdrawal, Deposit, and Fees:
Swindlers advise cryptocurrency deposits for a certain aim. Because such transactions are irreversible and documented, chargebacks are impossible. It is dangerous to make deposits with dishonest brokers. Their investors should remove their funds immediately due to the risk of unregistered brokers. To get clients to comply, SBC delays withdrawal requests with spurious explanations.
Customer Feedback on Smart Business Corp.
A slew of negative customer reviews and low trust scores across platforms provide a gloomy picture of this company. Because the broker is unregulated, it may be a scam. To counteract such frauds, we highlight scam brokers for 2023 on our website.
Profit assurances:
Financial market promises of guaranteed riches are usually risky. Brokers who offer assured profits are frequently con artists. To minimize financial loss, ignore these enticing offers.
Swindlers at Smart Business Corp.
Scammers employ a number of techniques to trick you into thinking you're getting rich soon. They begin with small gains to gain your trust before pressuring you to invest more or recruit friends and family. Due to your inability to invest more, they suspend or delete your account, leaving you high and dry. Many fraudulent businesses employ fictitious headquarters and licenses to appear legitimate.