Business Tech
11 Benefits of Cloud Computing for Small Businesses
The cloud is being employed by all sorts of organizations, regardless of their type, size, or industry. Some of its purposes include storing data as backup, recovering data in case of disasters, managing emails, creating virtual desktops, testing and developing software, processing big data analytics, and displaying web applications to customers. For instance, healthcare companies use the cloud to devise customized treatments for patients, while financial services companies power real-time fraud detection and prevention through the cloud. Video game makers use the cloud to cater to millions of players by providing online games to them. This article will discuss the benefits of cloud computing for small businesses.
What is Cloud Computing?
Cloud computing is a service provider that delivers services like storage, networking, software, databases, and other applications over the Internet to enable faster innovation. Cloud services allow businesses to remotely access data, software, and resources
with minimal upfront costs or complex IT infrastructure requirements. The cloud eliminates physical hardware from the equation. All the resource application and data is safely stored in servers off-site and can be accessed by authorized anytime, anywhere.
Benefits of Cloud Computing
Cost Savings
Cloud computing is the potential for significant cost savings compared to having an on-premise solution. It eliminates the need to purchase and maintain expensive hardware while giving you access to powerful applications and data storage capabilities. It can reduce the cost of energy consumption since you no longer need to keep physical servers running in your office.
Scalability
With cloud computing, businesses can quickly scale up or down as needed. Companies can add more capacity when their workloads increase without investing in additional hardware or personnel. This is especially useful for businesses that experience seasonal fluctuations in their operations.
Improved Collaboration
Cloud computing makes it easier for teams to collaborate on projects and manage tasks. Document sharing and instant messaging allow remote workers to stay connected in real time, while shared calendars keep everyone informed of upcoming deadlines and events. Cloud-based project management tools enable teams to track progress and assign tasks.
Enhanced Security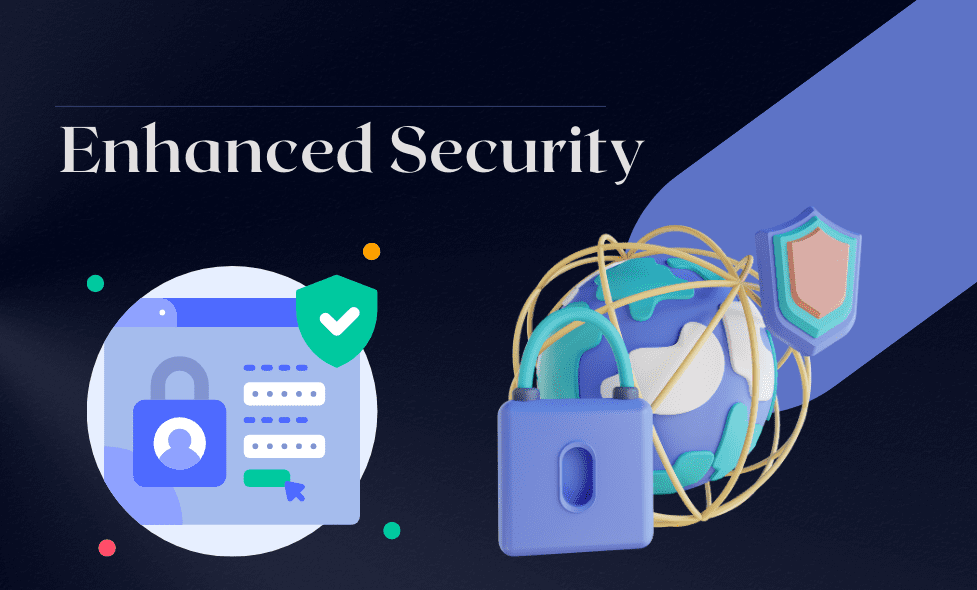 The security benefits of cloud computing should be considered. A cloud-based solution can be used to ensure that companies' data is stored securely and encrypted for extra protection. Cloud-based solutions often provide enhanced cloud security compared to on-premise systems. Encrypted connections rather than exposing their sensitive information to potential vulnerabilities associated with on-site storage. Businesses can access data and applications securely to ensure that data is protected and safe with cloud computing. Cloud providers offer robust security measures like multi-factor authentication and regular patching of applications.
Increased Agility
Cloud computing makes it easier for businesses to deploy new applications and services as needed quickly. This increased agility allows businesses to stay ahead of the competition regarding innovation and customer service. Cloud services can quickly test new ideas without investing in expensive hardware or software. With the help of an internet connection, employees can work remotely as companies allow access to data and applications from any device.
Automation
Cloud computing enables businesses to automate processes and workflows, improving efficiency and reducing errors caused by manual tasks. This automation also makes it easier for companies to manage their IT infrastructure since cloud providers typically offer automated provisioning and scaling of applications and resources. A cloud-based service helps businesses better manage their data by providing computerized backups and disaster recovery solutions.
Simplified Maintenance
Cloud computing eliminates the need for businesses to manage their hardware and software, simplifying maintenance and reducing IT costs. Offer managed services to handle your care and upkeep, enabling companies to focus on their core operations. It offers customer service and technical support to ensure that businesses always have access to the necessary resources.
Flexibility
Businesses can benefit from increased flexibility and a range of options by using cloud computing. Unlike traditional on-premise solutions,  select from diverse providers and services that can be customized to their needs. This enables businesses to find the best solution for their requirements without being obligated to a single provider. The flexibility of companies to adjust their IT infrastructure based on current demand allows them to scale up or down as necessary.​
Improved Disaster Recovery
Cloud computing simplifies disaster recovery for businesses by providing access to data and applications from anywhere. This removes the need for expensive backups and restores, as cloud-based solutions can be rapidly restored during an outage or disaster. Automated disaster recovery solutions ensure businesses can access critical data and applications no matter what happens.  
Lower Risk of Losing Data
Cloud computing stores data remotely, reducing the risk of losing important files due to hardware failure or accidental deletion. This can save businesses time and money in case of data loss. Additionally, cloud providers offer added security layers to protect data from malicious actors.
Accessibility
Cloud computing enables businesses to access their data and applications from any location. This empowers employees to work remotely or on the go, as cloud solutions can be accessed from any device. Eliminating the need for businesses to invest in additional hardware or software. Because of this, improved accessibility leads to higher productivity and better collaboration.
Best Cloud Computing Providers
The services offered by cloud computing providers are vast. Some of the most popular providers include 
Amazon Web Services (AWS)
Microsoft Azure
Google Cloud Platform (GCP)
IBM Cloud, Oracle Cloud
Digital Ocean. 
Each has unique features and functionality that make them suitable for different types of businesses, and IT needs. Researching each provider's strengths is essential to select the best service provider that fits your business. You must consider the level of customer service the provider provides. 
Conclusion
Cloud computing is essential for businesses nowadays as it provides various benefits that help them stay competitive. Implementing cloud-based solutions can help companies save money and access additional features, enhancing their efficiency and scalability. As
cloud computing advances, it offers exciting possibilities for businesses to optimize their operations and gain a competitive edge in the industry. Companies of all sizes should consider adopting cloud computing technology.